Green Power Talk is a friendly place to learn about and discuss all things in green technology. Whether you are on-grid or off-grid, a do-it-yourself'er or a professional, make yourself at home, feel free to put your feet on the table, and have a cool one on us! Let's make Green Power Talk your (green) home away from home on the Internet!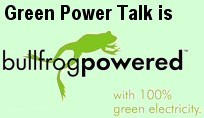 Help us make Green Power Talk the place to go to for green technology projects on the Web. Please post; tell others about your projects, ask questions, show pictures. It is your postings that will bring others to the site, so don't be shy! Others will not do it for you, we need your help to make this a valuable and lively forum where great ideas can come together.
Green Power Talk is owned and operated by Solacity Inc.
Green Power Talk, where the grass is always greener!
Renewable Energy Forums
Wind Power
Talk about Wind turbines, their installation, theory, and design. Discuss the pros and cons of the various brands, or DIY.
Hydro Power
Have a stream on your property? You are one of the few lucky ones! Discuss here how to tap hydro electricity from it. Micro-hydro, or not-so-micro hydro.
Solar Electricity
Solar power is finally entering the main stream, from Alaska to Aruba. Talk about Solar panels (photovoltaics), their installation, brands, prices, sources, and new solar technology.
Solar Heating & Cooling
This is the place to discuss all solar technology that is used to make heat (or cold). Solar water and air heaters, solar cookers, solar AC, new ideas etc.
Balance-of-Systems
For all those bits and pieces or odds and ends that make up a renewable energy system. Batteries, inverters, switches, fuses, and yes, even fossil fuel backup generators.
Biofuel
Up to your neck in, eh, biomass? Burning wood? You came to the right place! This is the place to discuss all biofuels. For automotive fuels such as bio-diesel head over to the transportation section.
Do-It-Yourself
Building something that does not fit any of the other RE categories, or just want to keep it in a seperate forum? This is also a good place to for those that want to do their own installation of RE devices.
Government Incentives
Federal, country, state, provincial, or local incentives for installing renewable forms of energy. Rebates, and tax deductions. Politics is OK too, as long as you keep it civilized.
Sustainable Building
Green Shelter
Talk about earthships, straw bale, adobe, cob and other forms of efficient shelter. Discuss their construction, cost, and tips or tricks. If you have new housing ideas this is also a good place for it.
Passive Solar
For design, and construction of passive solar housing. Tell us how you did it and how it is working out.
Building Materials
For all general construction materials and techniques related to green building. SIPs, ICFs, domes, insulation, embodied energy and more.
Sustainable Transportation
Combustion Engines
Hybrids, (bio) diesel, LPG, vegetable oil, hydrogen, ethanol. If it has a traditional internal combustion engine this is the place to discuss it.
Electrical Transport
If it runs on electricity and goes from A to B, this is the place to discuss it. Electric cars, electric bikes, electric trains and so on. Including the 'fuel', solar or otherwise.
Alternate Transportation
Everything related to transportation that doesn't fall in the previous categories goes here. Such as future transport, new technology, or new fuels.
Other Areas of Interest
Living the Green Life
This is a good place to tell others about yourself. Talk about personal experience with RE, your daily sustainable life, or what you want to do, how you make your renewable energy, or the house you built, your struggles and successes.
The Lounge
This is a lightly moderated forum where almost anything (vaguely) related to green/renewable/sustainable living can be discussed. Politics, the next great idea for infinite free energy, your utopia, whatever tickles your fancy. Please be respectful of other people.
For Sale/Wanted Marketplace
Post items you have for sale, are looking for, or want to swap. This is for individuals only, commercial adds will be removed! Do not bump and no auctions or services allowed. A PRICE, NON-INFLATED, MUST BE POSTED WHEN SELLING ITEMS.
Forum Information
Forum Operations Center
This area is to offer suggestions and to provide feedback on GPT Forum and its software. This area is not to be used to discuss forum rules or to complain about forum actions in regards to post or users. Posts will be removed that do not follow this.
Post Testing Area
A place to test some of the special types of posts you might make. Such as images, charts, or what have you. This is the place to try things first. Posting in this area will not increase post count.